3 Reasons to Buy a Home Now
Does all the news about a potential recession, changing mortgage rates, and rising inflation have you questioning whether or not you still wanna buy a home right now? If so, hear this. Today's housing market isn't a challenge, it's an opportunity. Here are three reasons why it's still a good time to buy a home.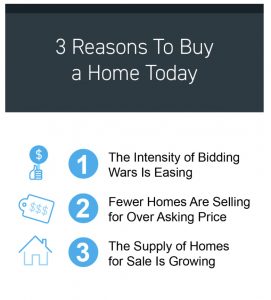 Reason number one, the intensity of bidding wars is easing. Month-over-month data shows the number of offers on recently sold homes is declining. That's good news for you, if you've been outbid previously or you're just tired of dealing with the frenzy.
Reason number two, fewer homes are selling for over asking price. While it's still a competitive market, the percent of homes that sold over list price has declined the past few months.
Reason number three, the supply of homes for sale is growing, and that means you have more options for your home search.
If you're want to buy a home, let's connect to discuss why today's market may give you the opportunity you've been waiting for.
Buyers Are Regaining Some of Their Negotiation Power in Today's Housing Market
If you're considering whether you should buy a home today, there's welcome news. The market is starting to shift and it's a more moderate sellers' market than last year. And the days of feeling like you may need to waive contingencies or pay drastically over asking price to get your offer considered may be coming to a close.
Today, you should have less competition and more negotiating power as a buyer. That's because the intensity of buyer demand and bidding wars is easing this year. So, if bidding wars were the biggest factor that had you sitting on the sidelines, here are a few trends that may be just what you need to buy a home.
1. The Return of Contingencies
Over the last two years, more buyers were willing to skip important steps in the homebuying process, like the appraisal or inspection, to try to win a bidding war. But now, fewer people are waiving the inspection and appraisal.
The latest data from the National Association of Realtors (NAR) shows the percentage of buyers waiving their home inspection and appraisal is declining. And a recent survey from realtor.com confirms more sellers are accepting offers that include these conditions today. According to their August study:
95% of sellers reported buyers requested a home inspection
67% of sellers negotiated with buyers on repairs as a result of the inspection findings
This goes to show buyers are more able to include these conditions in their offers today and negotiate as needed based on the outcome of the inspection.
2. Sellers Are More Willing To Help with Closing Costs
Generally, closing costs range between 2% and 5% of the purchase price for the home. Before the pandemic, it was a common negotiation tactic for sellers to cover some of the buyer's closing costs to sweeten the deal. This didn't happen as much during the peak buyer frenzy over the past two years.
Today, as the market shifts and demand slows, data from realtor.com suggests this is making a comeback. A recent article shows 32% of sellers paid some or all of their buyer's closing costs. This may be a negotiation tool you'll see as you go to purchase a home. Just keep in mind, limits on closing cost credits are set by your lender and can vary by state and loan type. Work closely with your loan advisor to understand how much a seller can contribute to closing costs in your area.
Bottom Line
Regardless of the extremely competitive housing market of the past several years, today's data suggests negotiations are starting to come back on the table. This is good news if you're planning to buy a home. To find out how the market is shifting in our area, let's connect.